Heres a tidbit that people seemed to skip over during all the buzz during the Business Meeting 06 by Ken Kutaragi.
Kutaragi also reiterated that that the PS3's internal media drive will not be a low-end BD player with limited functionality. "The PS3 will feature a BD Player that is up to the latest specifications," he said. "Although some people may think that the PS3 will be a poor man's BD player, it uses the Cell chip, RSX [graphics card], and High-Definition Multimedia Interface [HDMI]. We believe it will be the most cutting-edge player on the market."
Now i already knew this but for some of you who dont know.yeah most people also forget the most of the parts that make bd players expensive are not needed by the ps3 since it has cell and rsx and next gen HDMI 1.3.I work in electronics and i know exactly what this means.It should be able to keep on top of the more expensive blu-ray players that are coming around 2007 for a great while as they will not have these specifications.
- PS3 Blu-ray playback details have been divulged: Cell will handle software decoding, RSX will handle image processing. It will offer 1080p/60 output with 12-bit (per component) color. Video and audio processing will be 32-bit floating point.
We knew it could do 1080p over HDMI. So it has the correct hookup options to be premium. It can produce the highest possible BD output in terms of resolution, and it can do it DIGITALLY. The digitally is the most important part here. People go nuts over high quality video components because for a long time they produced analog output and therefor the quality of the filtering / DAC circuitry in the device affects output quality.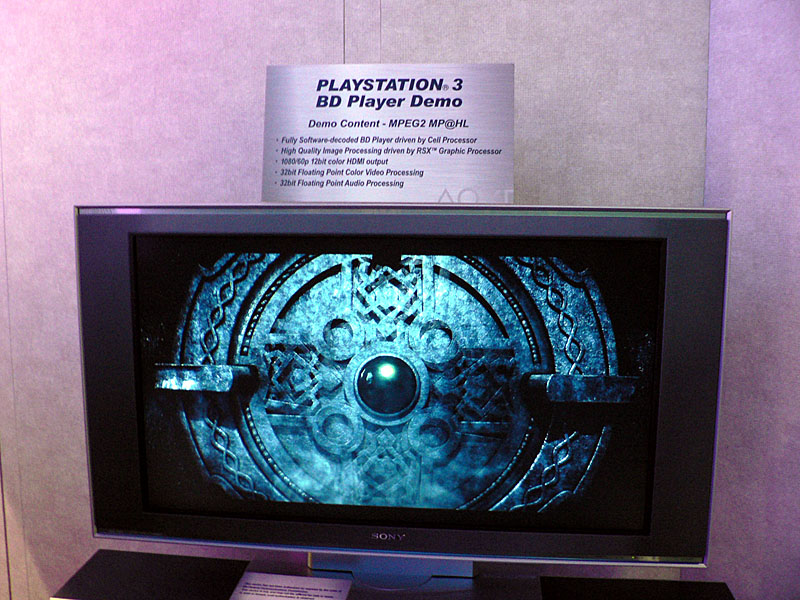 It's got Cell + RSX. Heck it only needs Cell. Meaning it can handle any video codec at HD. Cell will eat decoding for lunch. It will also be able to apply any number of digital video filters you might want. The only thing necessary for the PS3 to be a high quality BD player is the software that plays the movies. This will be upgradeable. So if it sucks for any reason, they will fix it eventually.
I knew Sony had the money right when they made Cell a physics processor,graphics rendering,movie quality audio handling,and hte ability to decode Blu-ray/Dvd movies and it shouldnt cost that much as Cell+Rsx are already most of the main parts.
Check the other thread about PS3's movie/cinema audio capabilities.
Looking awesome.