11 Photos Where Black People Were Awkwardly Photoshopped In or Out
"Photoshopped diversity in Toronto. Our first entry is the most recent one... this comes from a summer fun guide that Toronto published last month. A spokesman said they "superimposed the African-Canadian person onto the family ... [with] the goal to depict the diversity of Toronto."
They made the change because of a new policy in Toronto where the city manager mandated the staff always try to represent the cultural mix of residents."
Click the link for the rest
http://www.11points.com/Misc/11_Phot...pped_In_or_Out
I can't believe so many companies could produce such shitty shops.
Not included is this: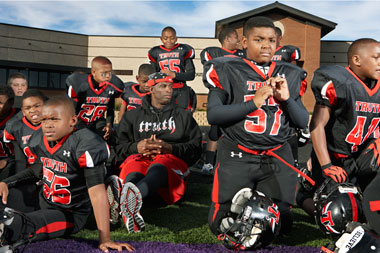 Here's another close up
http://i19.photobucket.com/albums/b1...er/deeeeon.jpg
That pictures is from an espn article "check out the picture of Deion with some of his youth players, including what appears to be on the left side of the frame the disembodied head of a boy with white skin that by all appearances was added to the image via PhotoShop or some other similar application."
Source
Or at least that's what I thought. Until these comments blew my mind:
Originally posted by StorminNorman
Originally posted by Route36West
How do these homers function in life? These must be the same people that deny that 9/11 was an inside job!! That is totally not fellacious reasoning because if they believe in one thing they must totally belive in everything even when it's totally unrelated.
What?
Originally posted by jimicos
What are your thoughts children?