KUALA LUMPUR, Malaysia - Nearly a dozen large guard dogs were eaten in Malaysia recently -- by a 23-foot long python.
The dogs were assigned to guard a fruit orchard in a small Malaysian village. By the time anyone noticed the hounds being eaten one-by-one, 11 had already been swallowed.
"I was shocked to see such a huge python," a villager told a newspaper, which also published a photo of the captured snake, which was almost long enough to span the width of a tennis court and as thick as a tree trunk.
Villagers did not harm the snake, which was tied to a tree then handed to wildlife officials.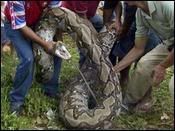 http://kutv.com/watercooler/local_story_027222643.html