Angry Eto'o hits out at Rijkaard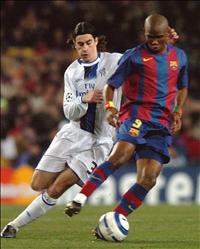 Eto'o was La Liga's top scorer last season
Cameroon striker Samuel Eto'o has hit out at Barcelona coach Frank Rijkaard for saying he refused to play in Sunday's 2-0 win over Racing Santander.
Rijkaard claimed the 25-year-old "didn't want to" come on as a second-half substitute.
But Eto'o said: "Telling a news conference I didn't want to play is the behaviour of a bad person.
"I've always thought about the group first. If anybody has balls, they should tell it to me face-to-face."
Rijkaard had asked Eto'o, who recently returned to action after four months out with a knee injury, to come on in the closing minutes at the Nou Camp but the striker apparently rejected the request.
"Eto'o warmed up but afterwards told (assistant coach) Eusebio he did not want to come on," said Rijkaard after the game.
"I think it's a shame because every minute, every moment, can be important... I haven't spoken with him but I'm always prepared to talk to the players."
Ronaldinho was also critical of Eto'o after the game, suggesting the striker had been inconsiderate to his team-mates.
But Eto'o responded: "If a team-mate says that you must think of the team, it's up to him to think of the team. Personally I always think first about the group and then money."
Barcelona's victory over Racing Santander, thanks to two goals from Ronaldinho, saw them open up a three-point lead at the top of La Liga.
They are also through to face Liverpool in the last 16 of the Champions League, with Rijkard's side hosting the first leg on 21 February.
However, Eto'o, last season's top scorer in La Liga, said a major rift had developed at the Catalan giants.
"There's a division in the changing room between two clans: one is the president's and the other is someone else's," he said.
"This is not my war, this is a war. I'm in the middle of a war between two people and I'm the one who is taking all the punishment. But I will return and return to play."
Reports suggest the rift is between supporters of president Joan Laporta and those of former vice-president Sandro Rosell, who left the club after a disagreement with Laporta.
Laporta earlier spoke out in support of Eto'o, denying the striker had refused to play on Sunday.
"His knee needs time to warm up and he didn't have enough time. He preferred to be careful," Laporta told Spanish newspaper Marca.
"He didn't do anything inappropriate or wrong. There is no way it can be deduced that Eto'o refused to play soccer for Barcelona."
Eto'o did not attend training on Monday, choosing instead to work in the gym - apparently because of a painful knee.
Source: BBC