A major earthquake struck southern Haiti on Tuesday, knocking down buildings and inflicting a catastrophe on the impoverished Caribbean nation, its ambassador to the United States said.
"The only thing I can do now is pray and hope for the best," the ambassador, Raymond Joseph, told CNN.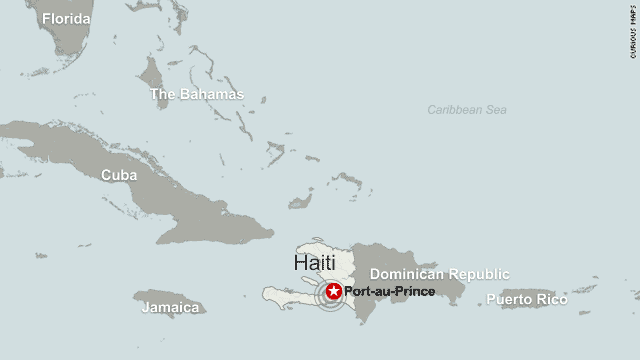 The magnitude 7.0 quake struck about 10 miles (15 kilometers) southwest of the Haitian capital Port-au-Prince shortly before 5 p.m. Joseph said he had little information about the extent of damage from the quake, but one government official -- the only one he was able to reach -- told him houses had crumbled "on the right side of the street and the left side of the street."
"He said it is a catastrophe of major proportions," Joseph said.
Are you there? Submit an iReport
A hospital collapsed from the quake, The Associated Press reported.
Frank Williams, the Haitian director of the relief agency World Vision International, said the quake left people "pretty much screaming" all around Port-au-Prince. He said the agency's building shook for about 35 seconds, "and portions of things on the building fell off."
"None of our staff were injured, but lots of walls are falling down," Williams said. "Many of our staff have tried to leave, but were unsuccessful because the walls from buildings and private residences are falling into the streets, so that it has pretty much blocked significantly most of the traffic."
The quake was centered about 6 miles (10 kilometers) underground, according to the USGS. A magnitude 5.9 aftershock followed soon afterward, about 30 miles further west, followed by a 5.5 aftershock closer to the location of the first quake.
"There is a kind of wail as people are very frightened by it," Williams said of the aftershocks. "But most people are out in the streets and just kind of looking up."
A tsunami watch was posted for Haiti and parts of Cuba, the Dominican Republic and the Bahamas, but there was no indication that a tsunami had been generated. Historical data suggested a destructive, widespread tsunami was not a threat, the USGS reported.
The quake could be felt strongly in the eastern Cuban city of Santiago, about 250 miles west of Port-au-Prince.
"It was very strong. It lasted for almost a minute," said Marlon Romaguera, who runs a bed-and-breakfast there.
Source: CNN.com