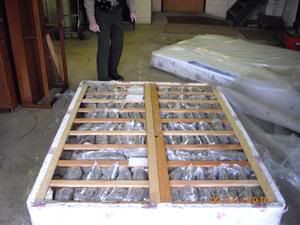 NewsTribune.com
: A
40-year-old man from Massachusetts is charged with cannabis trafficking
after police allegedly found 102 pounds of suspected cannabis hidden in a
hide-a-bed and a box spring in U-Haul truck in Peru, according to state
police.
Hung The Truong, 40, of Quincy, Mass., was stopped for failure to signal
and improper lane usage at 11:16 a.m. Sunday on Route 251 near 38th
Street in Peru, according to the report.
Police detected the odor of cannabis and searched the truck cargo box.
They found 17 packages of suspected cannabis where in the hide-a-bed and
79 packages in a hollowed-out box spring, according to the report.
In La Salle County Circuit Court this morning, bond was set at $2
million; he needs to post $200,000 in cash to be released from custody.
Assistant La Salle County State's Attorney Ryan Cantlin asked for an
unusually high bond, indicating Truong posed a flight risk and allegedly
misled police during the traffic stop.
Truong, he said, claimed to be cooperating with police, but a recording
taken of him making a cellular call in Vietnamese, was later translated.
It indicated, Cantlin said, that Truong was in fact alerting another
individual to his arrest.