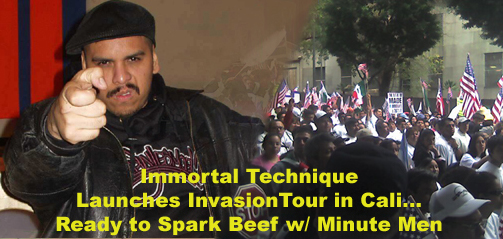 Immortal Technique Set to Take on Minute Men
--------------------------------------------------------------------------------
Immortal Technique Launches Invasion Tour in Cali..
He's Set to Take on Minute Men
by Davey D
Peep the Invasion Tour Press conference:
1) odeo.com/audio/996441/view Press Conference
2) odeo.com/audio/996758/view Q&A
Please not this press conference is unedited.. so if you are offended by profanity be warned..
Harlem based rap star swung through Cali this past weekend to officially launch his Invasion Tour… For the next two-three weeks Immortal will be crisscrossing the Western part of the United States doing concerts, and hosting workshops designed to bring awareness to the immigration debate..
Later during the tour Immortal has vowed to go to the borders in Arizona and confront Jim Gilchrist who is the leader of what many describe as the racist Minute Men patrol. That's where Hip Hop's beefs should be at this point in time. They should be focused on real enemies who are trying to pass legislation that will have long lasting impact.
This past weekend Immortal hosted a press conference at the South Central Farm in Watts to lay out his game plan and loan people keen insight into the immigration issue. He reminded people of the sorted history that this country has had over the years and how people in power are now conveniently overlooking the types of allowances made in the past for European immigrants now that many of today's immigrants are people of color.
Immortal also does a 30 minute Question & Answer session where he addresses everything from why he uses the N word and profanity on down to Black-Brown unity on down to his love for the west coast. Immortal also talked about the death threats he had been receiving prior to launching the tour. He said that he doesn't scare easily
During the press conference, the ominous LAPD attempted to disrupt things by flying a helicopter directly over Technique and the crowd that had gathered to hear him speak. The helicopter flew low so that the noise of the blades almost drowned him out. Organizers at the South Central Farm noted that every weekend during their meetings LAPD tries to smash on the farmers who oversee this farm located in the middle of Watts that feeds over 350 families.
Immortal Technique chose this site to hold his press conference for the Invasion Tour, because currently rich developers are trying to force the community group out to build a warehouse. The SCF was born out of the Rodney King riots and was put in place to help ease neighborhood tensions and provide critical resources for a community that does not have healthy grocery outlet for miles.
Peep out what Immortal had to say during the press conference… Share the knowledge with others and offer up your own feedback..
source
http://daveyd.com