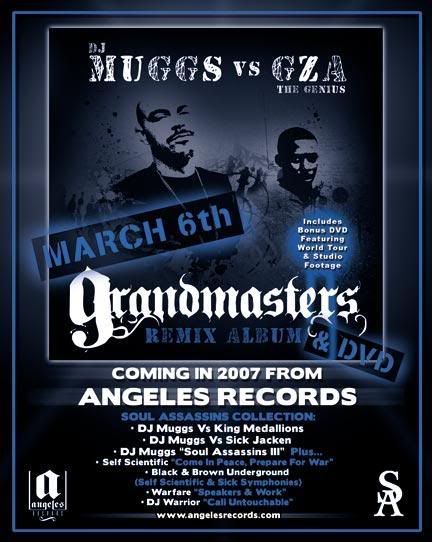 After the release of the critically acclaimed 'Grandmasters' album last year, Muggs and GZA are teaming up again for the 'Grandmasters Remix Album' and World Tour DVD (sold as a set) to be released March 6th on Angeles Records.
The DVD will feature the making of the album and world tour footage from Russia, Australia, and the US tours, as well as behind the scenes footage, all set to the music from the original 'Grandmasters' album.
The Remix Album will have 12 original remixes by some of the hottest producers in the game and continue right where the original left off.
Angeles Records / Soul Assassins 2007
Art / Music / Culture / Lifestyle.
http://www.myspace.com/angelesrecords
http://www.myspace.com/djmuggs
http://www.djmuggs.com
Can't wait it should be good, different producers on the remixes, the DVD also.